NEW YAMAHA Electone STAGEA 
- ELS-02 Series / Vitalise Unit -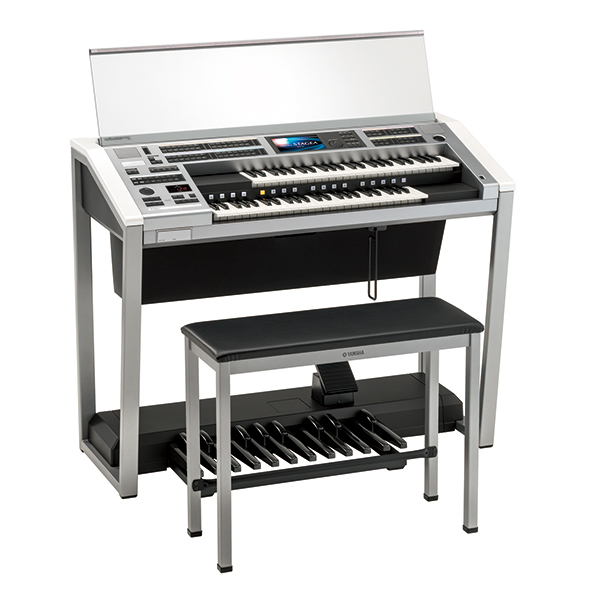 YAMAHA Electone STAGEA (Inclduing Original Stool)
ELS-02 (Standard Model)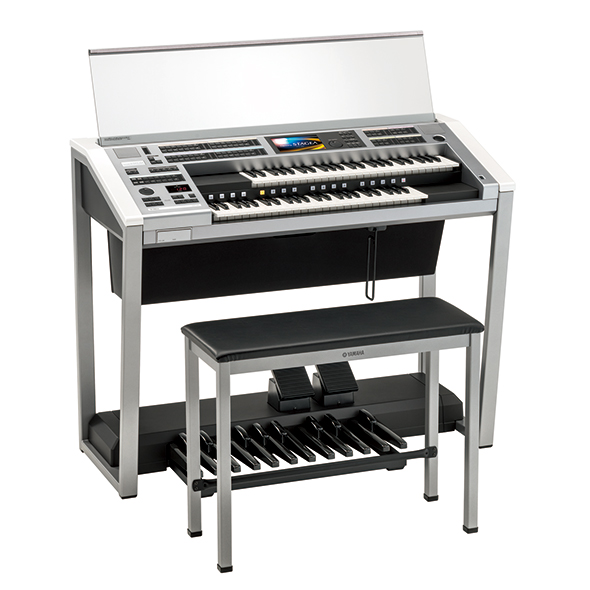 YAMAHA Electone STAGEA (Including Original Stool)
ELS-02C (Custom Model)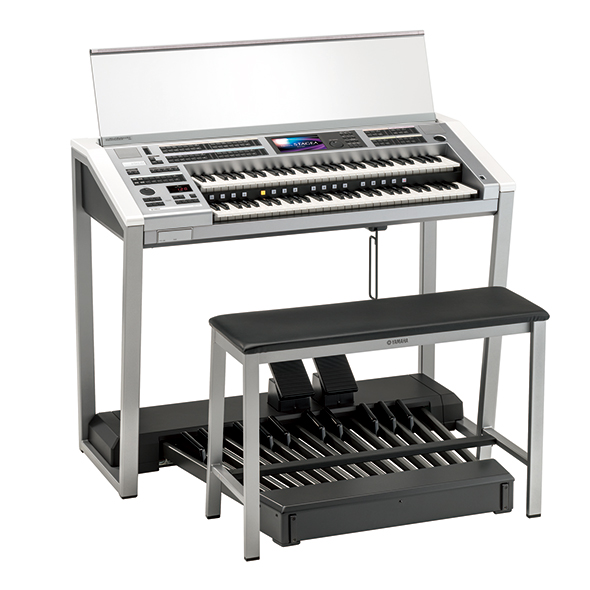 YAMAHA Electone STAGEA (Including Original Stool)
ELS-02X (Professional Model)
---
YAMAHA Japan will start selling the New Model of "STAGEA" from 10th April (Thu)

Also they will start to sell the Vitalise Unit [ELSU-V02] and [ELSU-V02X] from 7th May (Wed)
for STAGEA -01 Series owners to upgrade to almost the same as 02 series function.
About Electone STAGEA ELS-02 series and Vitalise Unit
Electones are a beautiful instrument on which a sole player can express music, not just the melody, but the harmony and rhythm as well. Using two keyboards and pedals this instrument, that was launched in 1959, has become a great and fun tool for use by the novice and professional. Approximately 4.8 million units have been sold in the world so far.
The STAGEA ELS-01 series were a very successful model launched in 2004 and upgrades have been very popular.
Electones have evolved over time by collecting and utilising the best musical technology available. Our 'vitalise unit' allows for smooth transition taking STAGEA ELS-01 series  to the capabilities of the new STAGEA ELS-02 series.
The aim of the new STAGEA ELS-02 series  was to balance new technology that will evolve over time with the music ability of this beautiful instrument.
Using state of the art technology (Super Articulation Voice) this ELS-02 series  helps to showcase the amazing sound that allows the natural sensitivity of the music and player to come through.
The details are as follows.
Key Features
1.

Development has achieved a new evolution of the electronic musical instrument - the "vitalise unit"

By attaching the unit to a ELS-01 series currently in use, without having to buy new, providing the same performance as the ELS-02 series.

 

2. New voice that can express even breathing

The amazing new 'super articulation voice' naturally reproduces the sound of acoustic instruments. One such example is using the touch of the keyboard to express more natural way to match the performance, the playing of acoustic instruments, the friction sound of finger playing and smooth staccato and legato which is indispensable to the performance of wind instruments and guitar. A major improvement has been to allow for even the breath sound of the saxophone.

 
3.Improved ability to take on the latest music  & enhancement of the registration menu
It is equipped with a wealth of rhythms that can respond to the music scene according to the trend of the times. In addition, metronome patterns and simple rhythms that can be utilized in such lessons is also available. The extensive menu is equipped with a simple preset that can be used as setting and basic registration and production improvisation.
4.Various ways to concentrate on playing more players
A preset bank that can be expanded to 5 times and changed easily. The use of tone and registration is now easier than ever before. One great improvement is also a larger LCD display allowing for better concentration on playing.
5.Compatibility does not loose the current assets
Performance data and registration that was created in ELS-01 series can be reproduced in the same way.
Main Specifications
ELS-02X
ELS-02C
ELS-02
Keyboard
Upper/Lower/Pedal keyboard
61/61/25
49/49/20
Type of Keyboard
Custom Keyboard(FSV Keyboard)
Standard Keyboard(FS Keyboard)
Initial Touch
Upper/Lower/Pedal Keyboard
After Touch
Upper/Lower/Pedal Keyboard
Upper/Lower keyboard
Horizontal Touch
Upper/Lower keyboard
-
Registration
Registration Menu
566
506
Registration Memory
1Unit 16×5
Tone
Number of Voice Section
Upper Keys Voice:2 / Lead Voice:2/Lower keys:2/ Pedal Voice:2
Number of All Pre-set voice
986+94(VA)
986
Number of Use Voice
1Unit AWM:80、VA:6
1Unit AWM:80
Voice Link
○
Organ Flute
Sine / Vintage / Euro /Vibrato
-
Rythm
Number of Pre-set pattern
634(Included metronome)
Control
Second Expression Pedal
○
Setting/Play back only
Internet Direct Connection
(Need a Tested LAN adapter)
○
Equipment Specification
A Liquid Crystal Display (LCD)
7-type TFT - Colour LCD 800 × RGB × 480 Dot
Sound
Amplifier Output
70W × 2
( When used ELSU-S02C )
70W×2
50W×2
Speaker
[Monitor Speaker]6.6cm × 2
[Corn Type]13cm×8、[Dome Type]2.5cm×4、[Monitor Speaker]6.6cm×2

[Corn Type]13cm×2、5cm×2、

[Monitor Speaker]6.6cm×2

USB TO DEVICE
3(2 out of 3 for USB DOCK)
Size・Weight
Width×Depth×Height
Body: 1,229mm×987mm×1,017m、1,276mm(When you made music stand)
Body: 1,229mm×574mm×1,017mm、1,276mm(When you made a music stand)
Weight:100kg
Weight:109.5kg
Weight:102.5kg
Stool:25 keys Pedal Stool
915mm×365mm×618mm、Weight 12.1kg
Stool:20 keys Pedal Stool
781mm×305mm×618mm、Weight 8.8kg