(Last Updated: 26th August 2020)
Our Bank is Rakuten Bank, however, they can not receive international payments directly to their bank.
Our Rakuten Bank is only able to receive international payments through their intermediary bank (Sumitomo Mitsui Banking) .
Please state our bank account information (Beneficiary Bank Account) and Mitsui Sumitomo Banking (Intermediary Bank Name)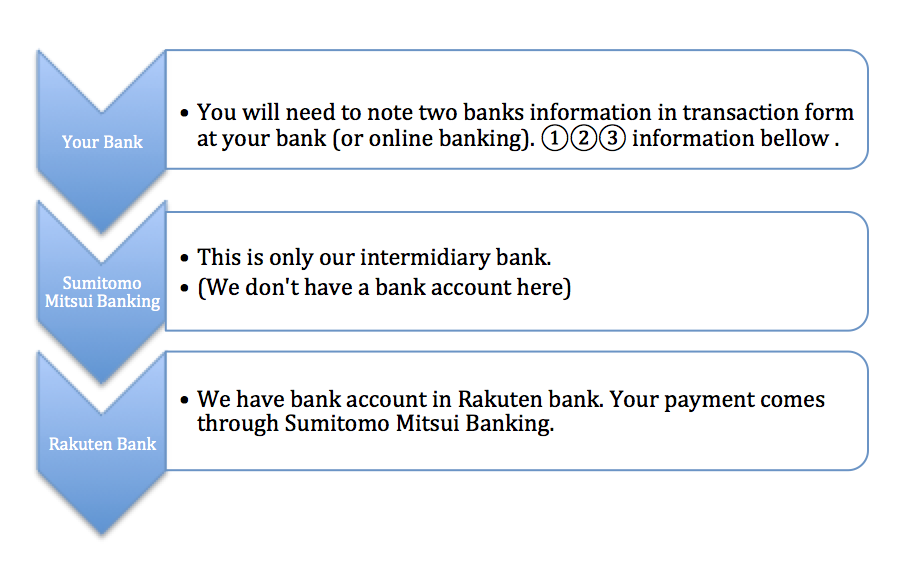 ①
Intermediary Bank Name: SUMITOMO MITSUI BANKING CORP, TOKYO JAPAN
Intermediary Bank's SWIFT CODE (BIC): SMBCJPJT
②
Beneficiary Bank (Final Destination Bank) Name: Rakuten Bank, LTD.
Branch Name: HEAD OFFICE
Beneficiary Bank Address: 2-16-5 KONAN, MINATO-KU, TOKYO, JAPAN
Receiver's Account Number: 222-5002382
Account Name: TARO'S TRADE JAPAN TARO OGATA
Account Type: Savings 
SWIFT CODE: RAKTJPJT
③
Beneficiary Address (Our office address) : 3-25-40 Yahatanishi-ku Kitakyushu Fukuoka Prefecture 807-0801 JAPAN
Phone : +81(0)93-602-2883
Taro's TRADE JAPAN
Please state all 3 pieces of information on the transaction form.
---
Common Mistakes!
1) Our bank account name is NOT "TARO OGTA" or "TARO'S TRADE JAPAN"
Our correct account name is "TARO'S TRADE JAPAN TARO OGATA" 
2) Mixed up the information of our intermediary bank info and Beneficiary bank account info. 
Please make sure those above 3 information state separately. 
3) Your bank operator mistakes quite often! Please make sure all form once again after they (or you) filled a form at bank before you sign. 
(If you doubt you can send me a screen shot or picture to us before you proceed transfer. We can check the form.)
Official instruction from Rakute Bank
https://www.rakuten-bank.co.jp/geo/incoming/sample.html