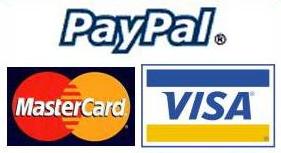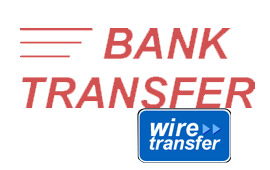 We process credit card payments via Paypal if the total price is less than JPY 100,000
If total cost is more than JPY 100,000 we need to accept payment through bank money transfer or bitcoin.

Please note all the prices listed on this web site DO NOT include your country's GST or VAT tax. Japanese tax is not included in our price either.
Bank account details as follows:
We started to use new bank (RAKUTEN BANK) since 24th May 2018.  We are no longer using Shinsei Bank. 
| | |
| --- | --- |
| Beneficiary Bank Name  | Rakuten Bank,LTD. HEAD OFFICE |
| Beneficiary Bank Address | 1-14-1 TAMAGAWA,SETAGAYA-KU, TOKYO JAPAN |
| Beneficiary Address Country Name  | Japan |
| Receiver's Account No. | 222-5002382 |
| Account Name  | TARO'S TRADE JAPAN |
| Account Type  | SAVINGS |
| SWIFT CODE  | RAKTJPJT  |
| Intermediary Bank Name | SUMITOMO MITSUI BANKING CORPORATION, TOKYO, JAPAN |
| Intermediary Bank's SWIFT CODE (BIC) | SMBCJPJT |
| IBAN |  There is no IBAN |
| Beneficiary Address | 3-25-40 Honjyo Yahatanishi-ku Kitakyushu Fukuoka JAPAN |

TERMS AND CONDITIONS

Any sale constitutes an agreement that the buyer will adhere to all terms and conditions as set out on this page, and pay for the item(s) purchased. Furthermore, the buyer enters into a legally binding contract with the seller, where upon the buyer is obliged to tender payment to the seller in accordance with the seller's terms and conditions.

* Item(s) purchased will not be sent to the buyer until payment has cleared.
* Payment should be made within 3 days of purchasing item(s).
* Item(s) will be shipped directly from Japan to your location.
* While all care is taken, any errors or omissions in the item details is unintentional.
* We are committed to work through any issues you may have in accordance with our policies.
* If in doubt, please ask for assistance.
* For queries regarding to any issues with item(s) received please contact us .

Shipping Policy
We will post your purchased items to your listed address, within 5 to 7 days, after payment has cleared.
It is also 5 to 7 working days to Australia, USA, and Europe from Japan.

Refund Policy
If there is anything wrong when you receive your item, please contact us within 30 days.
We will either refund the full purchase price after we received item back from you, or we will exchange the item in question for a new replacement. Please contact us with any issues you may have, and we will do our best to assist you.