YAMAHA Electone Stagea ELS-02C V 2.11
the
GAME
CHANGER
UK Electone Player Alex Payler reviews YAMAHA's latest and greatest Electone....
---
iPad Users may need to change to landscape for correct viewing layout.
To read the original article please click
Alex Payler Reviews the YAMAHA Electone STAGEA ELS-02c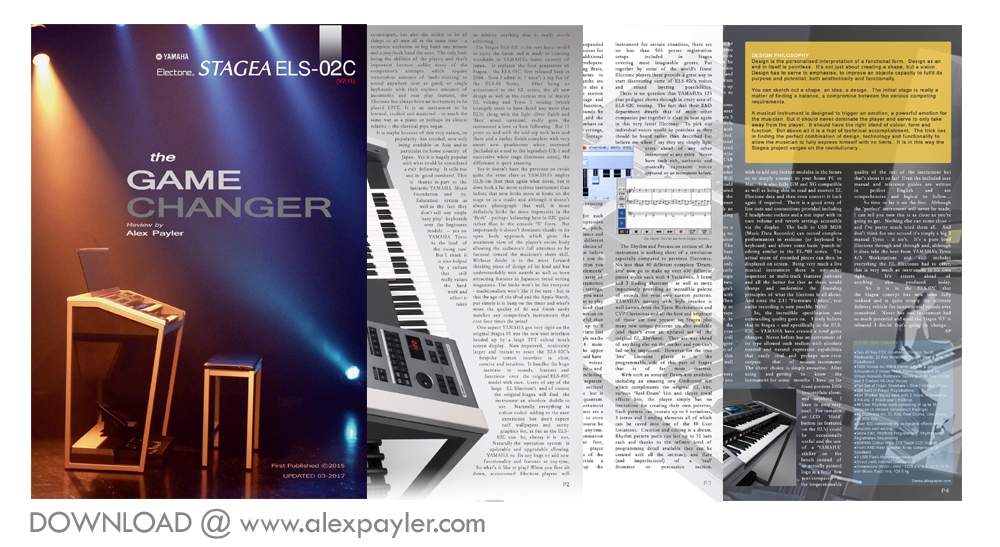 ---
You see and hear correctly. YAMAHA are still making organs - or as they quite correctly call them, Electones. Because, you see, such has been the phenomenal worldwide success and recognition of the instrument since its incarnation in 1959, YAMAHA's brand name 'Electone' even features in the Japanese dictionary recognising it very much as an instrument in its own right. A truly self contained electronic musical instrument that not only has all the 'live' musical and expressive potential as an 'acoustic' counterpart, but also the ability to be all things to all men all at the same time – a complete orchestra or big band one minute and a pop/rock band the next. The only limit being the abilities of the player; and that's important because unlike many of the competitor's attempts which require tremendous amounts of 'multi-tracking' to sound anywhere near as good, or single keyboards with their copious amounts of automatics and easy play features, the Electone has always been an instrument to be played LIVE. It is an instrument to be learned, studied and mastered – in much the same way as a piano or perhaps its closest relative – the classical pipe organ.
It is maybe because of this very nature, its popularity has receded, now only being available in Asia and in particular its home country of Japan. Yes it is hugely popular with what could be considered a cult following. It sells too and in good numbers! This is thanks in part to the fantastic YAMAHA Music Foundation and its Education system as well as the fact they don't sell any single 'easy play' keyboards over the beginners models – yes no YAMAHA Tyros or Genos in the land of the rising sun! But I think it is also helped by a culture that still really values the hardwork and effort it takes to achieve anything that is really worth achieving…
The Stagea ELS-02C is the very latest model to carry the baton and is made to exacting standards in YAMAHA's home country of Japan. It replaces the first generation of Stagea – the ELS-01C, first released back in 2004. Now I admit it, I wasn't a big fan of the ELS-01 Series. After being so accustomed to the EL series, the all new design as well as the curious mix of mainly EL voicing and Tyros 1 voicing (which strangely seem to have dated way more that EL's) along with the light silver finish and 'Ikea' wood surround, really gave the instrument a love or hate following. But 11 years on and with the odd nip tuck here and there and a darker finish complete with a very smart new pearlescent white surround (included as a nod to the legendary GX-1 and successive white stage Electones since), the difference is quite amazing. Yes it doesn't have the presence or exude quite the same class as YAMAHA's mighty ELX-1m (but then again what does), but it does look a far more serious instrument than before that now looks more at home on the stage or in a studio and although it doesn't always photograph that well, it most definitely looks far more impressive in the 'flesh' - perhaps balancing best in 02C guise rather than in the console 'X' form. But importantly it doesn't dominate thanks to its open body approach which gives the maximum view of the player's entire body allowing the audience's full attention to be focused toward the musician's sheer skill. Without doubt it is the most forward thinking piece of design of its kind and has understandably won awards as well as been attracting features in Japanese trend setting magazines. The looks won't be for everyone - traditionalists won't like it for sure - but in this the age of the iPod and the Apple Watch, put simply it is bang on the times and what's more the quality of fit and finish easily matches any competitor's instruments that cost four times the price!
One aspect YAMAHA got very right on the original Stagea 01 series was the new user interface headed up by a TFT colour touch screen display. Now improved, noticeably larger and instant to react the ELS-02C's bespoke screen interface is clear, concise and intuitive. It handles the huge increase in sounds, features and functions over the original ELS-01C model with ease. Users of any of the large EL Electone's and of course the original Stagea will find the instrument an absolute doddle to use. Naturally everything is colour coded adding to the user experience but don't expect naff wallpapers and corny graphics for, as fun as the ELS-02C can be, 'cheesy' it is not. Naturally the operation system is updatable and upgradable allowing YAMAHA to fix any bugs or add new functionality and features at any time.
So what's it like to play? When you first sit down, accustomed Electone players will notice the ELS-02C is noticeably larger than the EL Series. Wider and very interestingly higher it has a feeling of the full console ELX about it. You even get a foot bar on the bench which also accommodates a full 25 note radiating pedalboard (an optional upgrade along with 61 note keyboards). After owning and performing with the ELX-1m for the last few years this immediately felt comfortable to me but I can understand owners of standard EL Electones taking a few minutes to adjust. The next improvement is the keyboard action. Naturally both keyboards are 'Initial', 'After' AND 'Horizon' (the Electone's unique side to side pitch touch control) touch sensitive, but the key beds themselves are tighter, more comfortable and much quieter that before. The 20 note pedalboard is also 'Initial' and 'After' touch responsive and the pedals themselves are of the longer variety so heal and toe technique is entirely possible.
But what does it sound like? In one word – ASTONISHING. Pretty much all of the 1100(!) voices are of breathtaking quality and realism and thanks to the Electone's unique expressive touch curve and amazingly natural 'Horizon' touch (yes, no need for archaic pitch and modulation wheels here!), they can respond as close as you'll ever find to the real thing. The entire ELX-1m sound-set is included and still sounding as good as ever - although it has to be said just the odd one still seems to miss the 8 Operator FM synthesis it originally included to 'wrap' the sound (which was a trademark of the EL/ELX series). There are also hundreds of new bespoke 'Electone' sounds too. Next, there are over 120 breathtakingly authentic Super Articulation 2 Voices including the incredible Guitars, Vocal Sounds and effects first seen in the YAMAHA Tyros 4/5 workstations. The latest AEM Piano samples are simply stunning and recreate the sound of YAMAHA's newest CFX concert grand piano with infinite detail and clarity. Also, as first included on the EL-900, YAMAHA's extremely clever and expressive Virtual Acoustic (computer modelling) synthesis is featured too which has now been expanded to include 94 voices plus 6 Custom voices for either your own creations or additional voices available from 3rd party developers.

Wall to wall Strings, shimmering Brass, delicate solo Woodwind instruments to screaming Electric Guitars and Synths are nothing to the Stagea but there is also a complete 'Digital Drawbar' Organ section for both manuals with Sine, Vintage and Euro Organ Variations. With this function, you can recreate classic organ sounds by adjusting the flute footage levels and the percussive sounds via the virtual drawbars on screen. There are nine flute footage settings, with three additional footage settings for the attack sound and when used with one of the 18 rotary speaker simulations some extremely convincing results can be achieved. So yes it can sound like an organ too!
The level of customisation for each instrumental voice is extremely impressive including individual touch, volume, pitch, transpose, stereo position, and brilliance and vibrato settings as well as up to two different digital effects (plus Reverb!) from a choice of 300 can be added and this is even before going into editing proper! When you do enter the onboard voice edit function you find each voice is made of up to 8 'elements' and each individual element has an array of different filter and envelope parameters along with individual pitch and pan settings. You can even set which exact notes you want the entire voice or even each element to play on the keyboards – far more advanced that the conventional 'Split' keyboard function on other instruments. Even more useful than that is you can literally combine up to 8 completely different sound together into just one 'voice'! With a little bit of simple maths combining just the 4 main voices sections on the upper keyboard alone you could have up to 32 different voices playing at any one time – and this isn't even including the entirely separate organ drawbar section! Unnecessary perhaps but it does go to show the quantum leap in sheer power this instrument processes. Thankfully there are a whopping 80 User Voice memories to store your own creations which can of course be saved and recalled at anytime.
The sheer choice and customisation can be completely baffling at first, so to initially assist the player discover some of the possibilities of the Stagea as well to provide a way of instantly setting up the instrument for certain situations, there are no less than 566 preset registration setups included in Stagea covering most imaginable genres. Put together by some of the world's finest Electone players these provide a great way to start discovering some of ELS-02C's voices and sound layering possibilities.
There is no question that YAMAHA's 125 year pedigree shows through in every area of ELS-02C voicing. The fact that their R&D department dwarfs that of most other companies put together is clear to hear again in this very latest Electone. To pick out individual voices would be pointless as they should be heard rather than described but believe me when I say they are simply light years ahead of any other instrument at any price. Never have such rich, authentic and musically expressive voices appeared on an instrument before.
The Rhythm and Percussion section of the instrument is nothing short of a revolution especially compared to previous Electones. No less than 40 different complete 'Drum-kits' now go to make up over 630 different preset styles each with 4 Variations, 3 Intro and 3 Ending elements - as well as more importantly providing an incredible palette of sounds for your own custom patterns. YAMAHA's mastery with Style creation is well known from the Tyros and Genos Workstations and CVP Clavinovas and all the best and brightest of those are now present on Stagea plus many new unique patterns are also available (and there's even an updated set of the original EL Rhythms). They are way ahead of anything else on the market and you can't fail to be impressed. However for the true 'live' Electone player it is the programmable side of this part of Stagea that is of far more interest. With such an array of Drum-kits available including an amazing new Orchestral Kit which compliments the original EL kits, various 'Real-Drum' kits and clever vocal effects kits, the player simply has no limitations for creating their own patterns. Each pattern can contain up to 4 variations, 3 intros and 3 ending elements all of which can be saved into one of the 48 User Locations. Creation and editing is a dream. Rhythm pattern parts can last up to 32 bars each and thanks to the infinite level of programming detail available they can be created with all the intricacy, and flare (and imperfection!) of a 'real' drummer or percussion section.
Naturally each percussion instrument can be finely tuned, panned anywhere in the stereo field and even have various digital effects added. The finished patterns can then be sequenced (along with any registration changes) to give the effect of a live and natural drum accompaniment. Custom drum kits can be created and you can also assign up to two different percussion instruments to any key or pedal for a 'live' drum solo.
With all this creative freedom it will come as no surprise that there is plenty of user storage onboard the instrument. There are 5 banks of 16 Registrations immediately available for each performance piece with easy instant loading of new sets if required. All global settings are stored in the internal flash rom and everything can be transferred easily and reliably to a USB Memory Device for instant recall utilising any of the 3 USB sockets, two of which are accessible through a natty 'slow release' opening drawer under the left hand cheek panel. An optional Wifi wireless 'dongle' can be connected (I would suggest inserted into the 3rd socket located by the midi and 'To Host' ports under the instrument console) for direct internet connectivity as well as to interface with an iPad or iPhone for data backup and loading using a free YAMAHA App...
The Stagea ELS-02C unusually features a front AND rear speaker array containing no less than 14 speakers including two monitor speakers either side of the console. The sheer power, clarity and quite fantastic bass response is really quite remarkable. Improved since the ELS-01C but still only rated as having 2x70w amplifiers it clearly shows how far speaker technology and design has come on over the last decade or two. There is no doubt it can deliver the Stagea's voices and sounds more than adequately with no distortion or 'bottoming' out. When located near a wall, the rear speakers help to provide an almost 3D quality that wraps around you; whilst when on stage or in demonstration it cleverly allows the instrument to be placed in which ever direction the performer chooses and still feed its sound out virtually to a 360 degree field. I believe this is the only instrument of its type in the world to feature this configuration and it really works very well indeed.
As you would expect the ELS-02C has a very comprehensive midi specification should you wish to add any further modules in the future or to simply connect to your home PC or Mac. It is also fully GM and XG compatible as well as being able to read and convert EL Electone data and then even convert it back again if required. There is a good array of line outs and connections provided including 2 headphone sockets and a mic input with its own volume and reverb settings accessible via the display. The built in USB MDR (Music Data Recorder) can record complete performances in realtime (or keyboard by keyboard) and allows some basic 'punch-in' editing similar to the EL-*00 series. The actual score of recorded pieces can then be displayed on screen.
Being very much a live musical instrument there is no other sequencer or multi-track features onboard and all the better for that as these would change and undermine the founding principles of what the Electone is all about. And since the 2.11 'Firmware Update', real audio recording is now possble. Nifty!
So, the incredible specification and outstanding quality goes on. I truly believe that in Stagea – and specifically in the ELS-02C – YAMAHA have created a total game changer. Never before has an instrument of its type allowed such realism with absolute control and natural expressive capabilities that easily rival and perhaps now even surpass that of acoustic instruments. The sheer choice is simply awesome. After using and getting to know the instrument for some months I have so far found precious little to to complain about and anything I have is only very small. For instance an LCD 'Hold' button (as featured on the EL's) could be occasionally useful and the use of a 'YAMAHA' sticker on the bench instead of an actually painted logo is a little 'low rent' compared to the unquestionable quality of the rest of the instrument but that's about it so far! Even the included user manual and reference guides are written in perfect English and are comprehensive and logical to follow....
So time to lay it on the line. Although the 'perfect' instrument will never be made, I can tell you now this is as close as you're going to get. Nothing else can come close – and I've pretty much tried them all. And don't think for one second it's simply a big 2 manual Tyros or Genos - it isn't. It's a pure bred Electone through and through and, although it does take the best from YAMAHA's Tyros 4/5 and Genos Workstations and still includes everything the EL Electones had to offer, this is very much an instrument in its own right. It's streets ahead of anything else produced today. So it is in the ELS-02C that the Stagea concept has now been fully realised and is quite simply the ultimate delivery vehicle for instrumental sounds ever conceived. Never has one instrument had so much potential and until the Stagea '03' is released I doubt that's going to change…
AP.